WOLF OBSERVATION REPORT
This information is voluntary under Part 365, Endangered Species Protection, of the
Natural Resources and Environmental Protection Act, Act 451 of the Public Acts of 1994.
Refer to the wolf/coyote diagrams below to aid you in identifying your sighting.
Please fill-out the report as completely as possible. All data requested are important, including
accurate information on the observation location.


Michigan Gray Wolf (Canis lupus)
Height:
30" average
Length:
4.5 feet to 6.5 feet
Weight:
50 to 100 pounds; average is 65 pounds
Present range in Michigan:
Upper Peninsula
Status:
Endangered

Coyote (Canis latrans)
Height:
18" maximum
Length:
4.3 feet maximum; 2.8 feet average
Weight:
25 to 45 pounds
Present range in Michigan: Statewide
Status:
Game Animal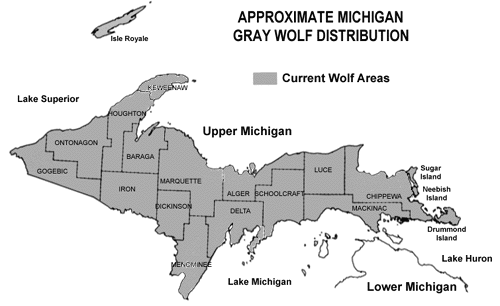 You can help the gray wolf by:
Learning the difference between the gray wolf and the coyote.
Reporting any harassment of a gray wolf.
Reporting wolf observations and locations.